by B. Morrison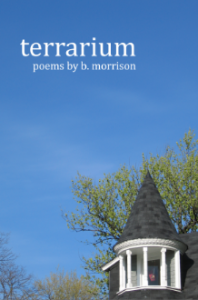 In this new collection of poems, B. Morrison explores the influence of place: where you live, where you grew up, where you travel, where you go in dreams. She seeks out the haunted places of her youth, piecing together memories, as she looks for a way forward through the maze of the present. Together these poems map a journey through grief for the lost and the dying to a renewed commitment to live every day. Echoes of the past find new meaning as Morrison brings the different paths together to discover the true meaning of home.
ISBN 978-0-9789253-2-1
80 pages
Trade Paperback
Country
Book Price
Shipping/
Handling
Total
United States
$13.00
$2.00
$15.00 US
Canada
$13.00
$3.00
$16.00 CA
To order, send a check to:
Cottey House Press, PO Box 1375, Brattleboro VT 05302, U.S.A.