by B. Morrison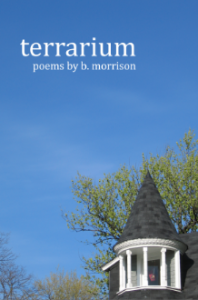 In this collection of poems, B. Morrison explores the influence of place: where you live, where you grew up, where you travel, where you go in dreams. Seeeking out the haunted places of youth, she searchs for a way forward through the maze of the present. Echoes of the past find new meaning as Morrison travels to a cabin on a New England pond to discover the true meaning of home.
ISBN 978-0-9789253-2-1
80 pages
Trade Paperback
Country
Book Price
Shipping/
Handling
Total
United States
$13.00
$2.00
$15.00 US
Canada
$13.00
$3.00
$16.00 CA
To order, send a check to:
Cottey House Press, PO Box 1375, Brattleboro VT 05302, U.S.A.