by students of Piaye Combined School, Piaye, St. Lucia, edited by Jill Watts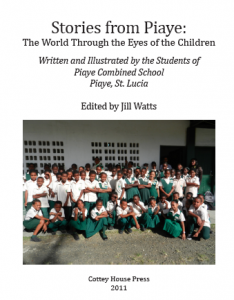 These stories come from students in the small village of Piaye on St. Lucia, an island in the Carribean. The children, for whom poverty is a way of life, are strong and resilient. English is not their first language. Asked to write fairy tales, the children quickly left the traditional format behind to reveal how their world appears to them with all its love and violence. Their stories will touch you in new and surprising ways.
ISBN 978-0-9789253-3-8
72 Pages, Full-Color Illustrations
8.5x11 Paperback
Country
Book Price
Shipping/
Handling
Total
United States
$22.00
$2.00
$24.00 US
Canada
$22.00
$3.00
$25.00 CA
To order, send a check to:
Cottey House Press, PO Box 1375, Brattleboro VT 05302, U.S.A.
SPECIAL! SAVE!
Order with A St. Lucian Inspired Fairy Tale for a total price of $25 (with shipping $27 US, $28 CA).