by B. Morrison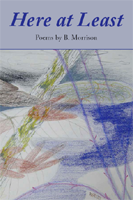 This collection of poems from B. Morrison reveals her journey of transformation. Standing on the threshold of a new life, she examines the past and the world around her for signs in her quest to recreate herself. Calling herself a pilgrim, a pilot and an explorer, she lays aside all that is no longer of use and moves forward into the unknown.
Country
Book Price
Shipping/

Handling

Total
United States
$13.00
$2.00
$15.00 US
Canada
$14.00
$3.00
$17.00 CA
To order, send a check to:
Cottey House Press, PO Box 1375, Brattleboro VT 05302, U.S.A.